Overview
For relatively small data requests we offer a way to download data directly from our database. The 'Data Download Wizard' provides an intuitive interface that allows you to download volatility data on individual stocks to a .csv (comma separated value) file, which can be easily imported into Excel or other desktop applications. 'Daily Updates Wizard' is a service complimentary to 'Data Download Wizard' – all the data available in Data Download Wizard can be delivered to you on a daily basis if you subscribe to our Daily Updates Service.
Data History Depth
We offer end-of-day options data going back to November 2000.
Markets Coverage
Our database covers both North American and European markets - publicly traded options on equities, ETFs and Indexes.
Data Download Wizard allows to download only currently traded equities. To order data on delisted names please contact us at support@ivolatility.com.
Data Download Wizard currently offers neither US futures options data nor Asian markets data. To order these data, please contact us at support@ivolatility.com.
Data download limit
One time download is limited now to 50 MB. You can split your order into portions if it is larger than 50 MB.
If you want to download large-size data, you should contact us directly, as for bulk data orders we offer up to 80% discount (all in one file data) compared to Data Download Wizard. Minimum data order when making order with us is $200.
Datasets and pricing
Our datasets allow for most advanced historical analysis and comprise both standard and several unique indicators:
| | | | |
| --- | --- | --- | --- |
| Dataset* | Description | Sample file | Cost** |
| Historical Volatility (both end-of-day and Parkinson's) | Realized (historical) volatility data. More details in the Knowledge Base | | $0.02 per record. A year data for single stock costs about $5. |
| Individual Options Contracts Volatilities (RawIV)*** | Actual implied volatility and Greeks based on the full string for the listed contracts. More details in the Knowledge Base | | $0.036 per record (full option chain). A year data for one stock (full option chain data) costs about $9. |
| Implied Volatility Index | A weighted ATM measure of a stocks expected volatility estimated for 1, 2, 3, 4, 5, 6, 9 months and 1,2,3 years. More details in the Knowledge Base | | $0.036 per record (all IVX horizons data included). A year data for one stock costs about $9. |
| Implied Volatility Surface | A surface normalized by moneyness and maturity built on "raw" IV basis by interpolation.More details in the Knowledge Base | | $0.06 per record (full volatility surface for a stock). A year of data for single stock costs about $15. |
| Options prices (NBBO) with volume and open interest*** | Daily close NBBO prices for all options with volumes and open interests of each option | | $0.0144 per record (full option chain for a stock). A year of data for single stock costs about $3.60 |
* Download samples above reflect all the provided data format. There is no filtering by expiration or strikes or other parameters – if you need to filter out the data, you need to download standard dataset file and run filtering on your side.
** Minimum charge is $3 per download. If your data fee for a download is less than $3 you are given a credit on the difference and can download more data within 24 hours without being charged the 'Download' Fee.
*** Raw IV and NBBO datasets include all standard options (100 contract size in US). Corporate actions options (after split, merger and other events) are not included. To order this type of data please contact support@ivolatility.com.
You will not be charged any fee for multiple downloads of the same data – just reload it from "My Downloads".
IMPORTANT!
After you confirm the purchase, you will be charged immediately and get access to data information. There is no refund after you accept the purchase.
How to use Data Download Wizard.
There are 4 steps in the Data Download wizard: Equities Selection, Dataset Selection, Data Range Selection and Data Download.
Step1. Equities Selection. You can choose your favorite group or type list of equities. In case ticker is not found, you can use symbol lookup.
Step2. Dataset Selection. At this step, you choose one dataset from 5 available: HV, IVIndex, Vol Surface, RawIV, NBBO. Only one dataset can be chosen at once.
Step3. Data Range Selection. For your ticker list, service offers earliest start date for every ticker:
<![if !vml]>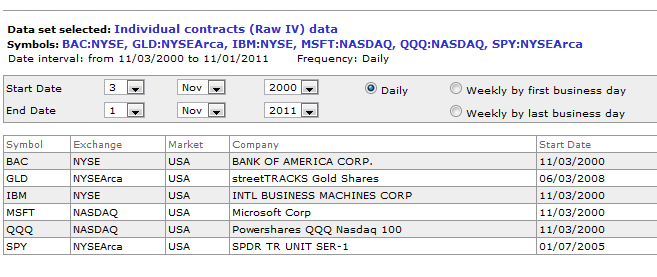 <![endif]>
Earliest options data start November 2000 (NBBO, RawIV, IVindex, RawIV). Start date> November 2000 shows when options were launched- we usually have options data since the very first day they appear in the market.
In some cases (when choosing IVIndex) you may see start date May-1999, indeed, IVIndex 30 days starts in 1999, while other terms (60 to 180) start Nov-2000.
Earliest stock prices data start 1995 (this applies only to HV data).
You can change Start and End Dates for your ticker list; they are applied to all names in your list (unless any ticker has later start date).
Also at this step you choose daily or weekly (first/last business day) data.
After you applied all changes in previous step, you click NEXT and see the following notice:
<![if !vml]>

<![endif]>
This means you have chosen too large data order. You can either split it or send us a request.
If data size is <50MB you go to confirmation page where you can see the data fee:
<![if !vml]>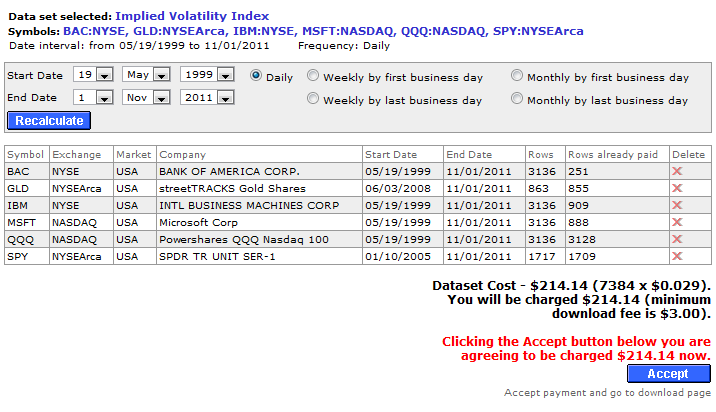 <![endif]>
If you agree, click ACCEPT and go to the data download page. Please note, you will be charged right after you click ACCEPT. If the charge passes well, you go to the download page.
If there are any problems with the charge, you will be given a notification and would need to contact us at support@ivolatility.com.
If you don't want to proceed or need to change some parameters of your order, go back and edit your choices.
Please note, after you accepted the purchase, you get access to the data information and there is no refund.
Step4. You can download your order (all or partially) directly from the web-site:
<![if !vml]>

<![endif]>
Please note, all your downloads are saved in "My Download" page. You can always re-load data later for free:
<![if !vml]>

<![endif]>