IVX Volatility Monitor - give your clients a better look into current market volatility


Designed for exchanges, brokers, financial institutions and web-sites, IVX Volatility Monitor provides an intraday VIX© (® is a registered trademark of Chicago Board Options Exchange, Incorporated) -like measure for all US securities and exchange traded instruments.

Customize what you want IVX Volatility Monitor to contain. IVolatility.com will host, serve and maintain your IVX Volatility Monitor delivering the service through your web-site.

IVX Volatility Monitor Key features:
Instrument coverage includes all US equities (stocks, funds, indices traded on NASDAQ, NYSE, AMEX)
You can customize instruments list to best represent you
History of IVX back to 2000
Intraday IVX calculation for each instrument and today's tick data.
30, 60, 90, 120, 150, 180, 360, 720 day periods for IVX
Charts with intraday IVX as well as historical IVX are available
Framing technology or XML delivery. Both are offered to match your firm's web site look and feel

An example of IVX Volatility Monitor that IVolatility.com distributes to all its clients and financial web-sites, below: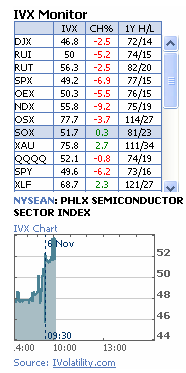 You can find IVX Volatility Monitor directly on our home page.

IVX Volatility Monitor Web Widget can be easily integrated into anyone's web-site.

IVX is a registered trademark of IVolatility.com

To learn more about IVX read IVX description.