IVX Volatility Monitor - a FREE new service with intraday volatilities for IVolatility.com users and financial web-sites.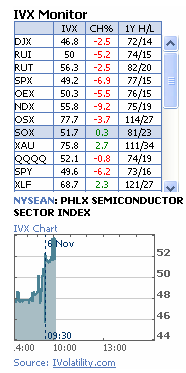 We are proud to announce the launch of our IVX Volatility Monitor. In these dynamic markets, every trader needs to know the market's implied volatility so they can accurately adjust their trading strategies and positions during the trading day. IVX Volatility Monitor gives every user of IVolatility.com current readings of intraday implied volatility on major indices and benchmarks in US equity and futures markets.
This includes

Dow Jones, Russell, S&P, NASDAQ market indices
XAU, SOX, OSX sector indices,
exchange traded funds like QQQQ, SPY, XLF
top stocks like IBM
Futures

Corn, Treasury notes from CBOT,
S&P futures, Eurodollar and Euro FX from CME,
Russell futures from ICE,
Gold, Oil, Gas futures from NYMEX.
Intraday you can monitor IVX 30 day, its change from the previous close and comparison to 1 Year's High/Low Values. Those hi/low numbers give a good perspective for current implied volatility.

IVX is an expected stock volatility over a future period. It is derived from current option prices and it is available for any optionable security. IVX is VIX-like measure. To read more about IVX and its comparison to VIX please go to IVX new description. IVolatility.com, a market leader in providing historical and intraday data, analytical services and tools as well as comprehensive risk management for the derivatives marketplace. We introduced the Implied Volatility Index (IVX) almost 10 years ago.

Once the monitor is on screen, click/select the symbol. You will see a chart with the intraday IVX value VS its previous day's close.

IVX is a registered trade mark of IVolatility.com

The service is FREE of charge to our users.

You can easily post IVX Volatility Monitor Web Widget at your web-site using code:

&lt iframe src="http://ivx.ivolatility.com/ivx/" height="385" width="185" border="0" frameBorder="0" marginHeight="0" marginWidth="0" scrolling="no"&gt &lt/iframe&gt

If you are interested in getting a customized IVX product for your web-site please read our proposal or contact our sales at sales@ivolatility.com.
Back to All News articles