US market closed, let's look at Europe and Asia !
US markets were closed on Monday so we will focus our attention on what happened in Europe and Asia to help you prepare for today's session.
First in Europe, the German DAX gained about 1% while the French CAC gained 0.6%. Looking at the DAX, performance was very stock specific with some of the riskier names performing very well (e.g., HFG or DHER) while others which had done relatively well on the year still caught a bid (e.g., DTE and RWE).
Overall, European Banks continued to perform well on Monday. We flagged in Monday morning's market update that they already had outperformed the broader market the prior week. They are coming from a very low base as the market remains concerned about profitability, recession risks and possible credit risks with yields going up. On the other hand, they seem to have discounted a lot of bad news already as shown on the 1-year chart of Deutsche Bank (DBK) and BNP Paribas (BNP) displayed below.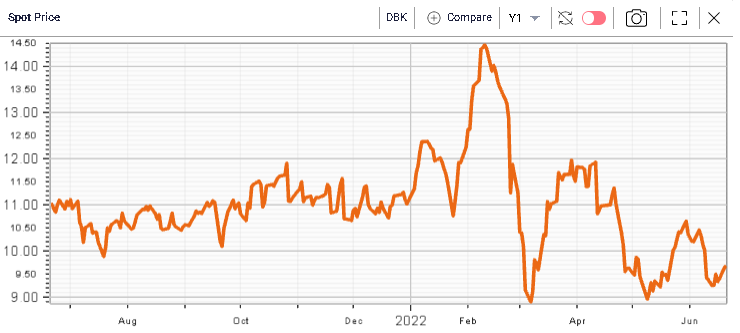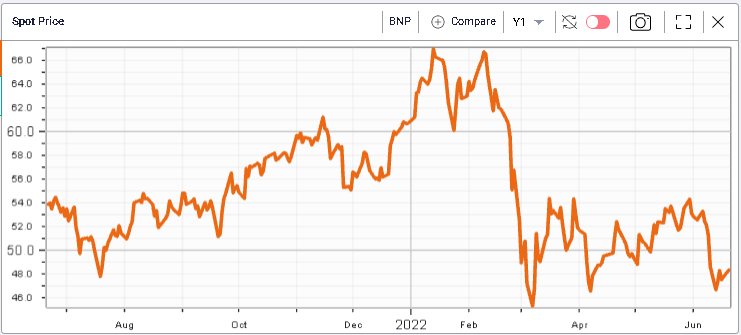 Looking at 30d IVX on BNP, the largest European Bank with a market capitalization of 61bln euros, we can see that the implied volatility has consistently dropped lower despite spot remaining stuck around the lows.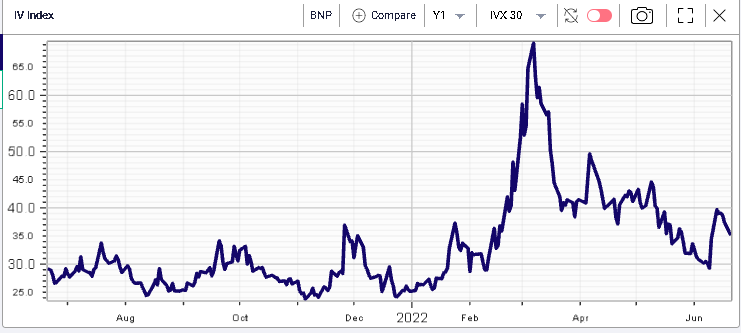 This divergence has been visible across most European implied volatilities as the market had to quickly adjust to the new geopolitical regime in February which created a large premium for implied volatilities.
Over in Asia, the NKY continued to underperform and actually finished almost 1% in the red on the day. Chinese stocks were marginally higher up less than 0.5%.
Zooming in on the NKY, it has been very heavy of late although it managed to significantly outperform the rest of the global indices in 2022 so far.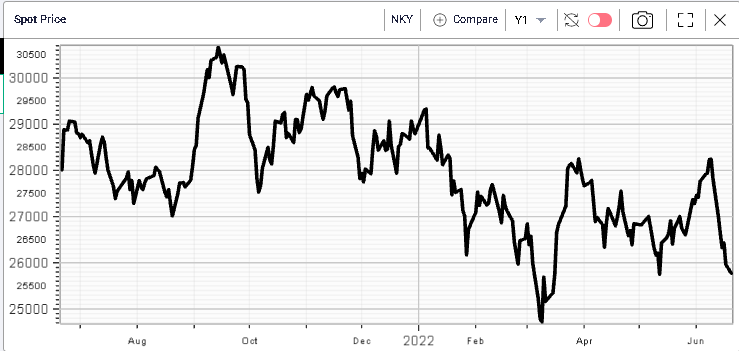 In fact, the index has lost 7% since the local highs made on the 8th Jun'22 and is "only" down 10.5% on the year. The SPX on the other hand has dropped 23.4% on the year.
Looking at implied volatility for the NKY, it has pretty much caught up again with SPX 30d IVX and seems to continue to move higher at a time when SPX 30d IVX is seen compressing.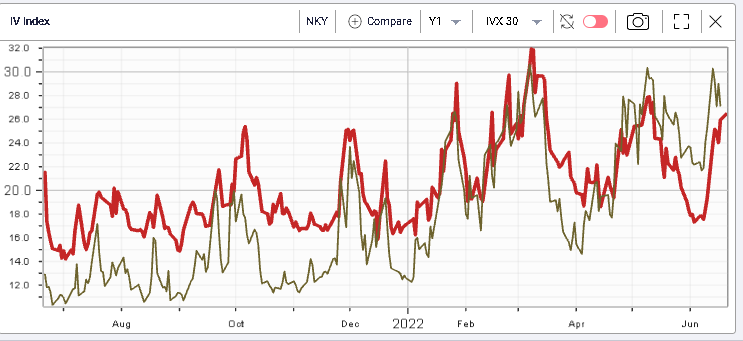 In light of all the tightening that has been done or announced across global major central banks, it is possible that the market is starting to get worried about the situation in Japan where the BoJ remains pretty much as dovish as ever.
Interestingly, since the 8th June, the JPY and the NKY have both been moving lower.
Disclaimer - This information is provided for general information and marketing purposes only. The content of the presentation does not constitute investment advice or a recommendation. IVolatility.com and its partners do not guarantee that this information is error free. The data shown in this presentation are not necessarily real time data. IVolatility.com and its partners will not be liable for any loss or damage, including without limitation, any loss of profit, which may arise directly or indirectly from the use or reliance on the information. When trading, you should consider whether you can afford to take the high risk of losing your money. You should not make decisions that are only based on the information provided in this video. Please be aware that information and research based on historical data or performance do not guarantee future performance or results. Past performance is not necessarily indicative of future results, and any person acting on this information does so entirely at their own risk.
Back to All News articles